Flight of the Drones on Long Island
It's a rainy Monday night in Great Neck Estates, and Carol Frank is waiting to talk about an intruder in her garden.
A week ago, she walked to the front yard of her home and found a toy drone among her plants. Nobody knocked on her door to claim it. No one called her to see if she had found it. And there was no ID tag on the copter.
Tonight, she's here to tell her story to the village board of trustees as they debate Bill GNE 1604, which involves "prohibiting use of certain unmanned aerial vehicles, systems or equipment." The trustees cited safety concerns, such as drones hitting power lines and causing outages, and privacy concerns, as the drivers behind the bill
Great Neck Estates isn't the first municipality on Long Island to consider regulations for drones. Babylon Village, the Town of Oyster Bay and the City of Long Beach have discussed regulations on drone flying after officials received complaints from the public. Both the Town of Huntington and Suffolk County approved regulations last fall.
The issue is steadily growing nationwide. As of Dec. 6, the Federal Aviation Administration had reported 1,158 sightings of unmanned aircraft via pilots or crew in the U.S., compared to the 920 reported in 2014.
The main physical criterion for a drone is its weight. If it's anywhere between .55 pounds and 55 pounds, the FAA classifies it as an unmanned aerial system.  Any flying machine over 55 pounds must be registered as an aircraft.
Drone pilots must pay a $5 fee for a three-year FAA registration, which includes a certification showing proof of registration and a personal registration number. Said number must be displayed on every unmanned aircraft system a pilot intends to fly. Unregistered pilots could face fines between $27,500 to $250,000 and jail time.
These FAA requirements came into effect Dec. 21 in response to drones' growing popularity.
Further, the FAA says drone pilots cannot fly their equipment within 500 meters of a government building or a public area, nor can they fly within five miles of an airport. Pilots cannot photograph or film pedestrians unless they have written consent from said pedestrians, nor can they fly their aircraft higher than 400 feet above ground level.
While this form of remote-controlled aircraft is typically referred to as a drone, but it's professionally known as an unmanned aircraft system or an unmanned aerial vehicle. Hobbyists and people who use these devices commercially – for wedding or real estate photography for example – say that the public may have negative associations with the word "drone."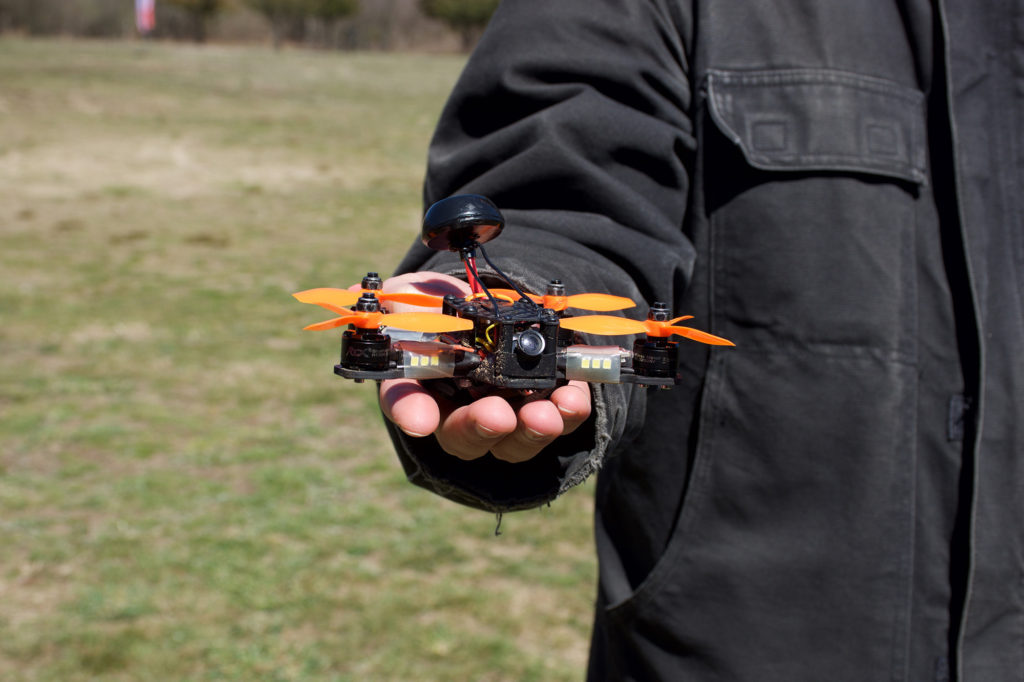 Some people, these users say, may associate the word with the technology used to fly over military targets and spy on or shoot enemies. The military and the news media have reported thousands of deaths from U.S. drone strikes in Pakistan alone in recent years. And movies such as "Eye in the Sky" and television shows such as "Homeland" have featured lethal drone strikes.
On Long Island, however, these computerized flying machines have yet to be associated with a single death. Users tend to be photographers or hobbyists.
One such user is hobbyist Ricardo Rota of Coram, who prefers the term "quadcopter" to "drone."
"In my mind, drones are more like military mass-destruction weapons," Rota said. He uses his device in his free time for the fun of flying it and seeing the Island from a bird's-eye view.
He has been flying quadcopters since he received a toy-grade quadcopter as a Father's Day present last year. He has registered himself as an unmanned aerial system pilot with the FAA.
Some of his devices have cameras that he uses to shoot video of public landscapes. Rota equates this activity to an amateur photographer's taking shots of public lands for a scrapbook. He maintains that his quadcopter flights are legal.
"Whenever someone comes up to me with my quadcopter, they ask me two questions: 'Wow, is that a drone?'" He'll explain that it's a quadcopter because it has four propellers, he said.
"The second question is, 'Does it have a camera?'" he continued. "I think people get nervous that drones have cameras, and they like their idea of privacy."
Rota said that if he can take a photo of a statue with his phone and there are no legal ramifications, he doesn't see the harm in doing the same with his quadcopter.
While Rota might be safe flying his devices in Coram – the Town of Brookhaven, which includes Coram, has yet to regulate their use – he might be less safe elsewhere on Long Island.
In September, Suffolk County lawmakers passed a bill requiring drone pilots to have a permit from the Suffolk County Department of Parks, Recreation and Conservation. In October, the Huntington Town Board passed a law requiring drone pilots to have prior written consent from the owner of any private property they want to fly over or written consent from the town if they want to fly over town property.
On a state level, New York has yet to take any serious action on drones although it requires permits to fly in certain areas. Bethpage and Heckscher state parks require a $40 permit valid from Feb. 1 to Jan. 31 the following year. Nissequogue River State Park requires a $40 permit valid from April 1 to March 31, and Sunken Meadow State Park requires a $40 permit valid from Nov. 1 to March 31. These permits are categorized under "Radio Controlled Model Airplanes."
George Gorman, the deputy director of the New York State Parks Department, says he has received no complaints about drones and has only issued "about half a dozen permits" to drone pilots to fly their equipment.
"We don't really see drones being utilized in state parks," Gorman said. "If they're not being utilized, then there are no complaints."
Huntington Town Councilman Mark Cuthbertson, however, said it was the concerns of local residents that led him to propose the law on drones that the town board passed in October.
"The legislation protects the public safety and welfare of the community by authorizing the establishment of procedures for the recreational operation of Unmanned Aircraft," Cuthbertson wrote in an email. "To ensure that their operation is respectful of the community, the new regulation protects the property and privacy rights of residents, particularly safeguarding the use of drones for the purpose of unlawful surveillance."
Growing concern about drones' possible invasions of privacy have engaged the attention of the New York Civil Liberties Union. In an email, NYCLU Executive Director Donna Lieberman emphasized the "serious and novel threats to personal privacy" drone flying brings up.
"Surveillance of all kinds demands meaningful, enforceable privacy protections," she wrote. "Our comings and goings, purchases, who we spend time with – New Yorkers have a right to know who's watching and what they're doing with that information."
Local drone pilots said they often confront people's fears about surveillance while using their devices.
Ruben Garcia of East Quogue, a drone pilot for two years who has done both recreational and commercial work with his collection of quadcopters, was flying his equipment at Cooper's Beach in Southampton last winter. A woman walking on the beach noticed Garcia's copter flying around and, assuming the worst, followed the copter back to Garcia.
The woman called the police and took photos of Garcia's car. Once the police arrived, Garcia said, he had no problem explaining what he was doing. His registration checked out. But the police said the woman had claimed Garcia was "harassing her with the drone."
"They asked to see my flight log and video, so I happily said to them, with all due respect, I would be more than happy to show my flight log and flight video, to assure and prove that I never even was close to her," Garcia said via email.
Garcia said he understands people's concerns. Instead of getting in shouting matches, Garcia said, he uses a much more useful method where he keeps his composure and listens.
"I usually have to first consider what and where this particular criticism is coming from," he said. "It usually derives from their own lack of knowledge and/or education about drones, so I truly do my best to simply explain a lot of things in simple terms."
Drones' growing popularity has spurred media interest.  Christina Mulligan handled social media for BZ Media, a Long Island company that reports on technology, until a year ago when the company launched InterDrone.com, and she became its first reporter. The firm also produces the largest event for the commercial drone market in the world, according to its website.
Mulligan has seen the drone market expand in a big way.
"I think there's just a lack of information and a lack of awareness amongst people," Mulligan said. "There is a perception out there that drones are going to be spying on people, or it's a flying robot flying above your head, so people have that safety concern."
Mulligan pointed out how the FAA hasn't given drone pilots the freedom to fly wherever they please, citing the agency's policies on no-fly zones.
As the recreational and commercial use of drones increases, it's becoming harder to ignore. In Great Neck Estates, the board of trustees passed the bill banning drone usage in the village. It remains to be seen where else regulation will limit drones, quadcopters or whatever people choose to call the devices.
For now, it's all still just getting off the ground.